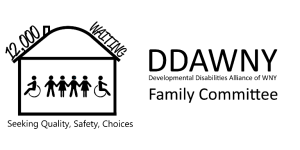 Our Mission: The mission of the DDAWNY Family Committee is to educate and inform people about the unmet needs of individuals with developmental disabilities and ensure quality homes and services are available in a managed care environment.
Our Vision: The DDAWNY Family Committee was established to give a voice and a way to be involved to family members of those individuals.
Our Purpose
To provide individuals with developmental disabilities a range of choices for their living opportunities.
To inform family members about the rights, protections, services and options available to their loved one with developmental disabilities.
To help family members become effective advocates for the collective good and addressing current priority areas.
To help the public gain awareness of the value our loved ones contribute to the community.
Please see the below link for great resources and information for parents and caregivers:
https://www.guideandconnect.org/copy-of-about
---
Our Brochure:  DDAWNY Family Committee Brochure
---
Families Continue to Educate and Fight for Supports!  Watch this Recent Channel 7 Media Coverage regarding the fight of families for needed funding for respite supports: http://www.wkbw.com/news/fight-for-wnyers-with-disabilities-continues
Minutes
Click here to download minutes from our Meetings:
May 2016 DDAWNY Family Committee Meeting Minutes
April 2016 DDAWNY Family Committee Meeting Minutes
Legislative Breakfast 2014
Read the Comments of two Family Members given at the Breakfast:
Comments by Joan D. Harms for Legislative breakfast
Comments by Rosemary Arnone for Legislative Breakfast
————————-
Published Letters to the Editor
The Family Committee  reached out to parents and family members encouraging them to write letters to the editor of the Buffalo News in support of the "Families Cannot be Caregivers Forever" campaign. The response was huge as the issue is urgent. Below are some of the letters that have been published.
https://buffalonews.com/2018/12/02/another-voice-support-professionals-for-people-with-disabilities-are-underpaid/?fbclid=IwAR2Ck1UFaqR8rFcgdkVd9CPeOATKNKXi010DnLw1s6RIk6WxOyzJLw5DhVs
http://www.buffalonews.com/opinion/letters-to-the-editor/letter-direct-care-providers-deserve-a-pay-raise-too-20160308
http://www.buffalonews.com/opinion/letters-to-the-editor/letter-wage-hike-will-devastate-vital-home-care-industry-20160301
http://www.buffalonews.com/opinion/another-voice/another-voice-state-must-help-workers-in-challenging-fields-20150712
http://www.buffalonews.om/opinion/letters-to-the-editor/letter-state-should-not-cut-services-for-disabled-20150227
http://www.buffalonews.com/opinion/letters-to-the-editor/letter-more-group-homes-needed-for-people-with-disabilities-20150304
http://www.buffalonews.com/opinion/letters-to-the-editor/letter-people-with-disabilities-need-support-of-village-20150306
http://www.buffalonews.com/opinion/letters-to-the-editor/letter-cuomos-budget-proposal-will-hurt-disabled-people-20150307
Here are more of the letters and articles in .pdf format:
Buffalo News Everybody's Column 12-9-2014
Buffalo News Everybody's Column 09-20-2014
Buffalo News Everybody's Column 1-11-15 (PDF)
Buffalo News Everybody's Column 1-21-15
Buffalo News Everybody's Column 3-28-15
Buffalo News Everybody's Column 3-12-15
Buffalo News Article 3-14-15 by Lou Michel Eight Who Lived in Squalor Moved from Group Home
Buffalo News Everybody's Column 3-23-15
Buffalo News Everybody's Column 3-25-15
Buffalo News Everybody's Column 3-26-15
3-27-15 Melinda Miller Aging Parents Worry About the Future of Their Developmentally Challenged Children
Buffalo News Everybody's Column 3-29-15
Buffalo News Everybody's Column 4-5-15
Also, these letters were published in other papers:
http://www.democratandchronicle.com/story/opinion/guest-column/2016/02/27/nonprofits-worried-minimum-wage-increase/81035438/
Madison County Courier Letter to the Editor 2-9-15
Utica Observer Dispatch Editorial Jan. 22, 2015
And here is an article about discussing issues with Governor Cuomo at a Minimum Wage Rally:
Executive Director John McHugh Connects With Governor Andrew Cuomo At Minimum Wage Rally
---
Click here for the information from the Buffalo News  on how to WRITE A LETTER TO THE EDITOR Guidelines: Writing A Letter to the Editor Page 1  and Writing A Letter to the Editor Page 2
---